Please click on arrow to navigate page by page - best option is to
scroll down

including • V I S T A S •
Welcome to our Global Community.
•
•

Banner photo: N730A (840) "BUMAH" - Unknown photographer © 1950's - via John Miller - Aird Archives
Banner photo: N215TS (261) "Ski Do" Lake Hood, Anchorage, Alaska - Ben Cogger © 15 March 2023 - Aird Archives
Banner photo: N123JL (1140) "Saucy" Sausilito, California - Gerry Barron © 30 April 2018 - Aird Archives
Banner photo: N123JL (1140) "Blank Stare" Mill Creek, California - Gerry Barron © 23 October 2015 - Aird Archives
Banner photo: C-FODO (205) "Test Taxi" - Luc Aubin © 14 June 2009 - Aird Archives
Banner photo: N65223 (996) "Rope Trick" Lake Hood - PALH_Anchorage - Jens Brokuf © 30 May 2022 - Aird Archives
Banner photo: XP807 (1457) "Draughty Flight" - AAC © c. 1964 - Aird Archives
Banner photo: N677TX (1333) "Tex" Lake Hood - PALH, Alaska - Ben Cogger © 14 March 2023 - Aird Archives
Banner photo: N108KS (428) "Float Time" Lake Hood, Anchorage - Jens Brokuf © 25 May 2022 - Aird Archives
Banner photo: N99NL (1597) "I See You" Wolf Lake - 4AK6, Alaska - Jens Brokuf © 26 May 2022 - Aird Archives
Banner photo: N995SP (995) "Heading Out" Lake Hood/Spenard - PALH, Anchorage, Alaska - Jens Brokuf © 30 May 2022 - Aird Archives
Banner photo: N67671 (489) "June Bug" Lake Hood - PALH, Anchorage, Alaska - Jens Brokuf © 01 June 2022 - Aird Archives
x
Celebrating thirty-seven years of research.
This website is a lasting tribute to the men and women, past and present, who have had anything to do with this fine aircraft.
Thanks for visiting and supporting the website.
If this is your first landing here, welcome on board.
Recording DHC-2 Beaver history, every single day . . .
The Great Beaver Photo Hunt countdown 1,692 built

Only 316 photos left to find!

Can you help?

Individual Histories - most with several images on the Website. More added each and every day !

I maintain a complete database, only a small part of it is on this website, I usually wait for a picture before adding data.

Can you help with any additonal snaps? Be part of the search team!

1,296
I thrive on feedback, and am happy to add specific requests! Send an e-mail suggestion. Replace the "at" with @
nca "at" DHC-2.com
Approximate number of DHC-2 images on the website, as of 28 February 2023.

Thanks again to Ian Macintosh for the stats.

15,152
Tell me now, what book do you have that adds several images/pages to itself each and every day?
CAUTION: This website, really a "giant free e-book", now has some 4,579 pages and at least 21,770 or so different images!!
(Not counting the close to three thousand of my once daily "Toonies").
About 15,177 of Beaver aircraft (my running tally - which is anything containing parts of a Beaver! - Hence different from Ian's Monthly Tally).
Even includes some videos and slide shows and large PDF presentations. WARNING: Could be very addictve.
My sincere thanks to my hard working research collegue, Ian S. Macintosh.
Special thanks to: Jens Brokuf, Bruce W. Gowans, Robert S. Grant, Nick Jackson, Jacques Guillem, Adrian M. Balch, John Mounce, Ian M. Macdonald, Dirk Septer, Ben Cogger, and many others. LINK
For new visitors - How to navigate this Web Site Click here .
•
NO VISAS EVER REQUIRED - ANYONE FROM ANYWHERE !
Our own global community - Visitors from 176 countries!
Ah - Hi - there you are!! I'm here working away - nice to have your company - enjoy the visit!
Widgit added 08-Dec-2014
x

March 2023

additions

•

Missed some recent entries ?

Click below, scroll down,

and catch up!

•

I created one of these every single day . .

. . .when I possibly could - I am taking an extended break in 2023.

Nine years!

Over 2,800 drawings.

•

Latest Blog Update

09 March 2023

•

Check out Neil's

Absolutely nothing to do with Beavers !

•

4,647 images now!

•

My regular INSTAGRAM account

24 added in

March 2023

A Beaver-a-day, if I can!

•

If you like DHC-3 Otters ?

Maintained by Karl E. Hayes and Neil Aird.

•

(18)

(27)

(48)

(23)

(31)

(94)

SOME FAVOURITE TYPES FROM

Wondering what may be next?

Connies & Sabres

(13)

DC-6 / C-118

(6)

Set your screen to 125% for nice big pictures!

1639

C-GUJU

1140

N123JL

261

N215TS

840

N730A

428

N108KS

1333

N677TX

996

N65223

1457

XP807

822

C-FODO

136

VH-AAY

1040

N671JT

489

N67671

995

N995SP

1597

N99NL

1563

VH-BSY

1477

VH-HAQ

1451

N501J

2000SC

N159AK

1601

N157AK

824

N8190Y

489

N67671

1525TB1

CF-PSM-X

389

N91285

1411

VH-AAX
This site is non-profit and non-commercial.  Free of advertising, but there are significant costs for internet services. 
If you enjoy this site, we do need your support every now and then. 
A small contribution to the 2023 Beaver Hat Campaign is most welcome ;-)
It's your support, through donations, make this website possible. Thank You!
• PayPal •
Meanwhile, enjoy your free (downloadable PDF) DHC-2.COM calendar pages.
Thanks to the generous, talented photographers who donate their work!
This was the 18th Year of the calendar. The 224th image. Good grief - that's a lot!
• Photo: Bruce W. Gowans © August 1985 •
(For private use only please)
Thank you for supporting DHC-2.COM, I really do apppreciate it.
Remember, it's your help that keeps the web site going.
•
•
Honouring the de Havilland Canada DHC-3 Otter family - Turbine and Piston, with roughly 1,905 images so far.
• Visitors so far - 137,780 since our roll-out back on 04 December 2015 • Note: THIS COUNTER STOPPED WORKING ;-( on 03 October 2022.
Current counter: 61,740 only active since 26 April 2018.
•
This original format DHC-6 Twin Otter website is gradually being refreshed by Neil & Ian!
Adding additional photos, every now and then.
We do this just for our own amusement and edification - you are most welcome join us, browse, and of course, hopefully, contribute.
This layout and concept are consistant with that of DHC-2.COM and DHC-3archive.com our two major websites.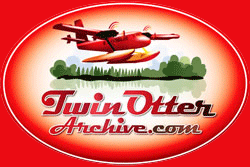 Over 317,510 unique visits logged since we began. (Hi Erik - how's tricks?)
February 2023 - 136 months online!
The longest running de Havilland Canada DHC-6 Twin Otter web photo resource.
At least 5,165 images added. Maybe you have some photos to contribute?
e-mail: twotter "at" cogeco.ca
•
• Basic data for 844 Legacy de Havilland Canada DHC-6 Twin Otters - plus the new build Viking DHC-6 Twin Otter Series 400 •
•
I finally go delving into my fondly treasured, rather dusty, dog-eared, old notebooks - also busy scanning, restoring, and publishing slides and negs left to me by dear friends. Blueskies - "Kilo-Mike" and "Eddy". Also adding favourites from various friend's collections.
Some nostalgic airport visits and images, after sixty-six years of "watching planes" adventures 1957 - 2023.
"Still crazy after all those years . . . . " Paul Simon © 1975.
"Memorable Magic Moments"
•
We have had visitors from ( at least )
187 countries
*
(* interesting note, Beavers were exported to 63 countries !)
•
•
•

• Non Beaver Aviation Links •

x

Sites I send live feeds to

x
•
Danielle's blog "danieonthego" - I urge you to have a read.
Danie - never one to mince words.
Link to her first book's website
"The Fishermen of Progresso" - Short Stories by Danielle Aird
•
GREAT NEWS ! 
Danie's latest book has been published (07 February 2022). Available for sale around the world on Amazon.
SELLING WELL - Have you got yours? Contact Danie and she can send one to you directly from Amazon with no shipping charges.
"The Camino is not just for walking" - Pilgrims, Hosts and Ghosts along The Way.
Meanwhile Danielle wrote:..... I am so excited! My book The Camino is not just for Walking has arrived. It can be found on Amazon but if you live in Kingston and would like a signed copy, I will have a stock of them to be collected at my house. You pay no shipping. The proceeds will go to help the wonderful men and women who host and feed pilgrims along the Camino de Santiago and who have sustained huge losses in income these last couple of years. Just let me know if you and / or your friends would like a copy. I will put the kettle on and we can have a visit at the same time. Here is the blurb. Have a wonderful day.
When Danielle Aird went in search of stories along the Camino de Santiago, she found a wealth of history not only of the Camino but of a wider Spain, and came across a fascinating, motley collection of characters alive and departed (pilgrims, hosts, volunteers, and other Spaniards). Unexpectedly, along the way, she also revisited her own unconventional past. In The Camino is not just for Walking, while her narrative takes readers by the hand through the small villages and larger cities, they are joined by usually friendly, often inspiring and sometimes eccentric characters spanning a millennium.
•
If you wish to contact me use the e-mail below and enter the "@" symbol where you see "at".
nca "at" dhc-2.com
I'd really like to hear from you someday!
Especially if you can help support the website.
Photographic images used  throughout this website are either in the public domain, or used with express permission of their respective copyright holders.
Please note: Images and articles freely added, alas, cannot be removed.